the zombie studio presents...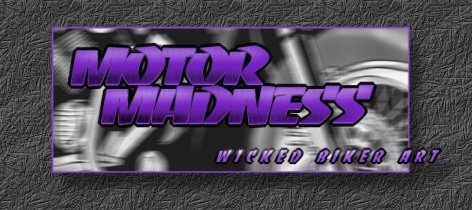 Well, here it is, the new site. I've been pretty busy lately and while updating the original site, I figured why not get this one up and runnin' (officially). It's gonna be rather crude lookin' for a while, but I do have huge plans for this space. In the meantime, you, yes you , can help if you wish. Wanna show off the ride? send in the pics. Got some biker art of your own? Sent that too! Also, if you have a site all your own, I'd be more than happy to link it.
Personally, I'm new to drawing bikes. I wanted to do something different so instead of just the motorcycles, I added in the riders and made em all freaked out. It's a lot of fun and I've gotten a ton of cool suggestions. (p.s. send those too if ya got em!)
Incase ya strutted in here from somewhere other than the studio site, be sure to check it out. It's more media related art. (TV, comics, vidio games) There's a link at the bottom pf this page.
Hey, you still readin' all this junk? Let's get to the art!


- - - - - - - - - -

- - - - - - - - - -